Offering
-
Salfati Group Venture Studio
Salfati Group Venture Studio uniquely blends a research-centric approach with a robust portfolio strategy to tackle core startup challenges, thereby significantly enhancing the ROI and ensuring a higher success rate for startups.
Offering

Salfati Group Venture Studio

Year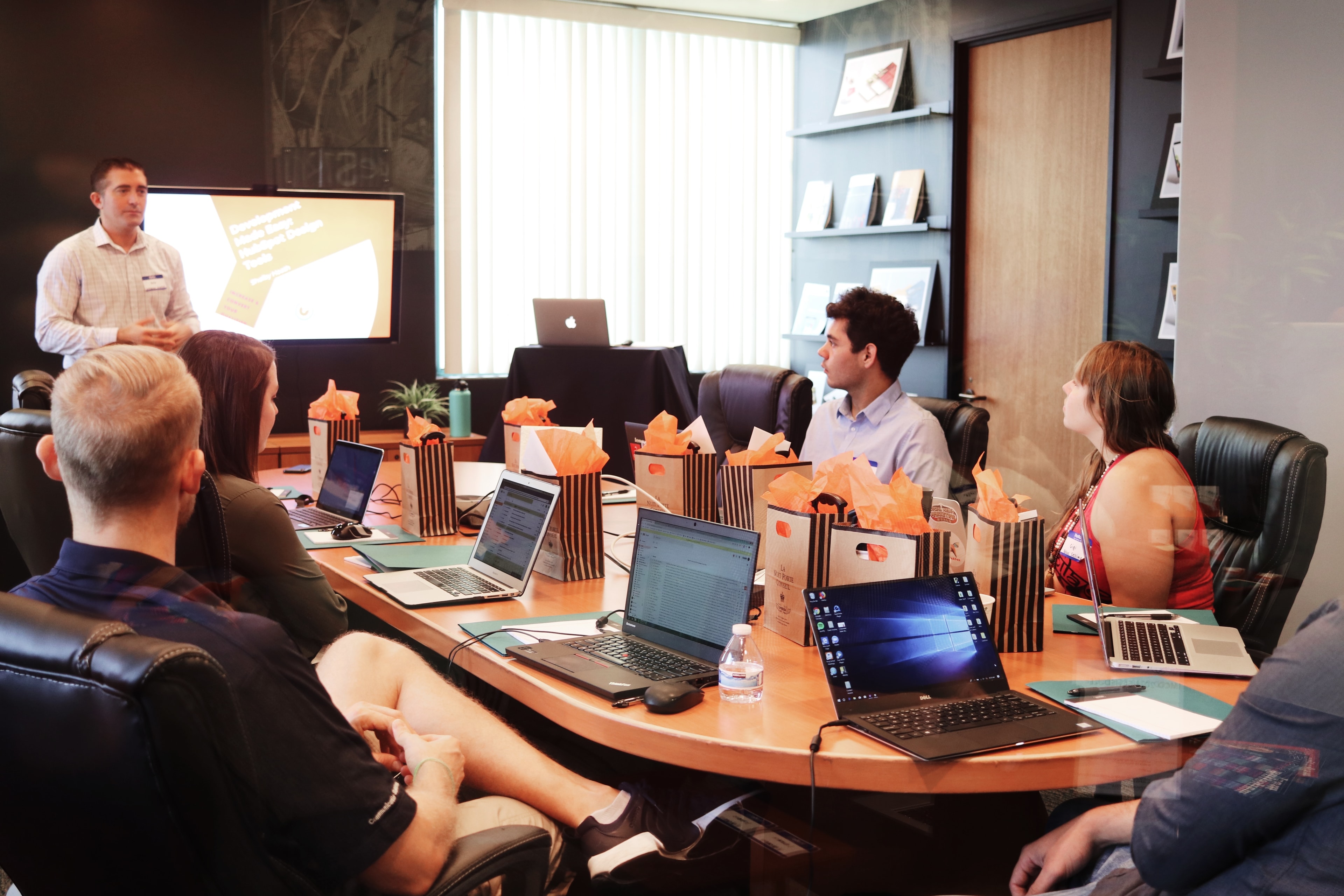 Salfati Group Venture Studio: A New Dawn in Startup Ecosystem
Welcome to Salfati Group Venture Studio, where we redefine the art and science of launching successful startups. Our venture studio is more than a cradle for nascent enterprises; it's a powerhouse of transformative ideas aimed at resolving the core challenges faced by founders in today's competitive landscape.
---
Our Hypothesis
Our hypothesis is straightforward yet potent. We believe in the venture studio model as it significantly improves the framework of launching startups, fostering a culture of continuous learning and refinement. However, what sets Salfati Group Venture Studio apart is our unique portfolio strategy. We delve deep into academic, research-centric methodologies to unearth the quintessential challenges haunting founders. Our response to these challenges is to spin out startups dedicated to tackling them head-on, thereby creating a domino effect that enriches our fund and amplifies the Return on Investment (ROI).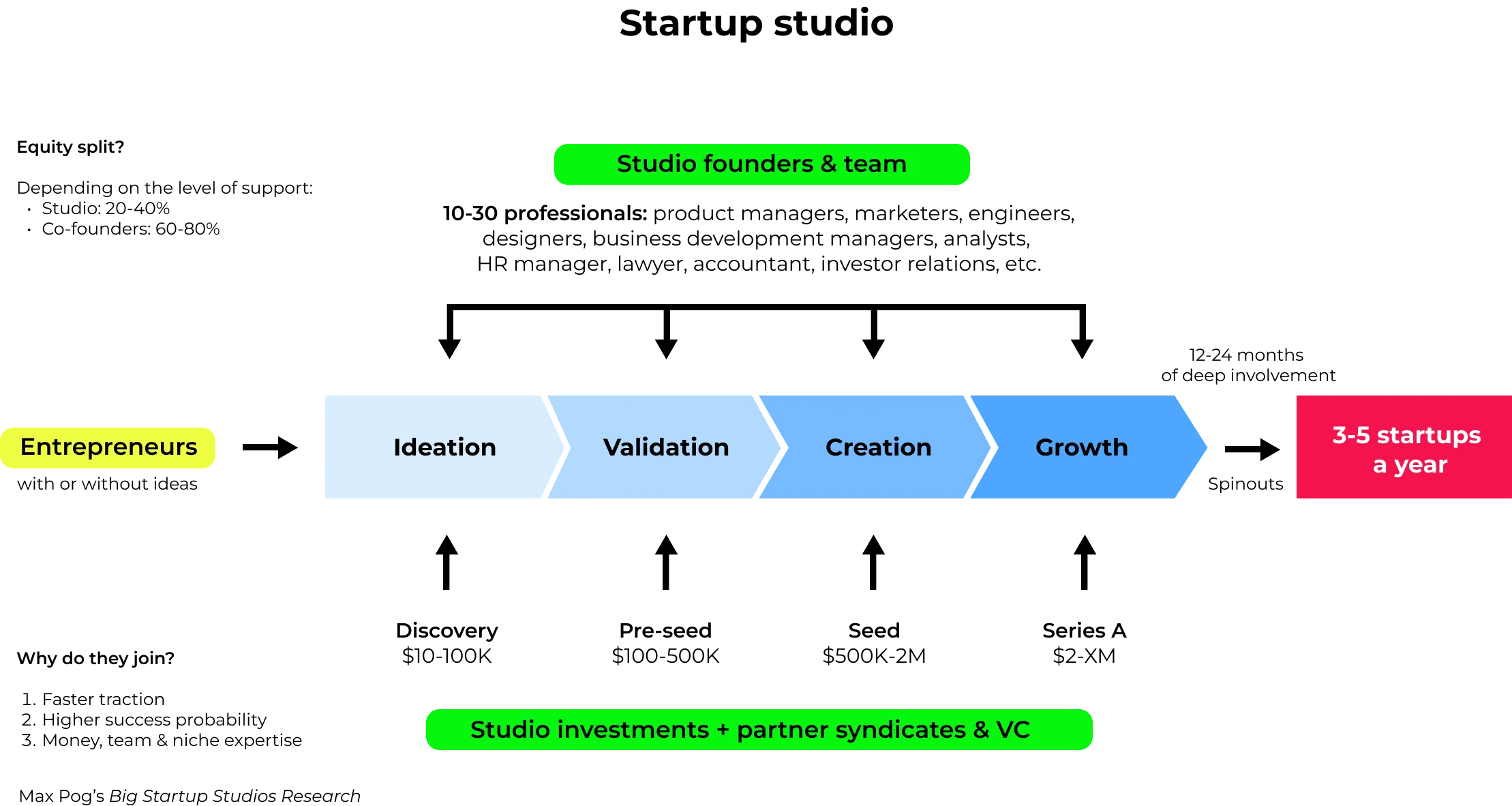 ---
The Benefits of Venture Studios
Venture Studios like ours serve as a crucible where innovation marries capital and mentorship. The collaborative essence of our model elevates startup success rates, nurturing them from the cradle to the crescendo of commercial viability. Unlike traditional startup ecosystems, our venture studio model brings a bouquet of benefits:
Higher Financial Returns: As highlighted by Global Startup Studio Network (GSSN), venture studios boast a higher TVPI (Total Value to Paid-In) ratio, mirroring the performance of leading accelerators like Y Combinator.
Increased Startup Success Rates: A substantial 84% of startups nurtured in venture studios secure seed round funding, a stark contrast to the 42% in traditional setups.
Investor Attraction: With over $21 billion funneled into venture studios, the investor community's faith in this model is palpable. The potential for lucrative exits via M&A or IPOs serves as a siren call for financial backers.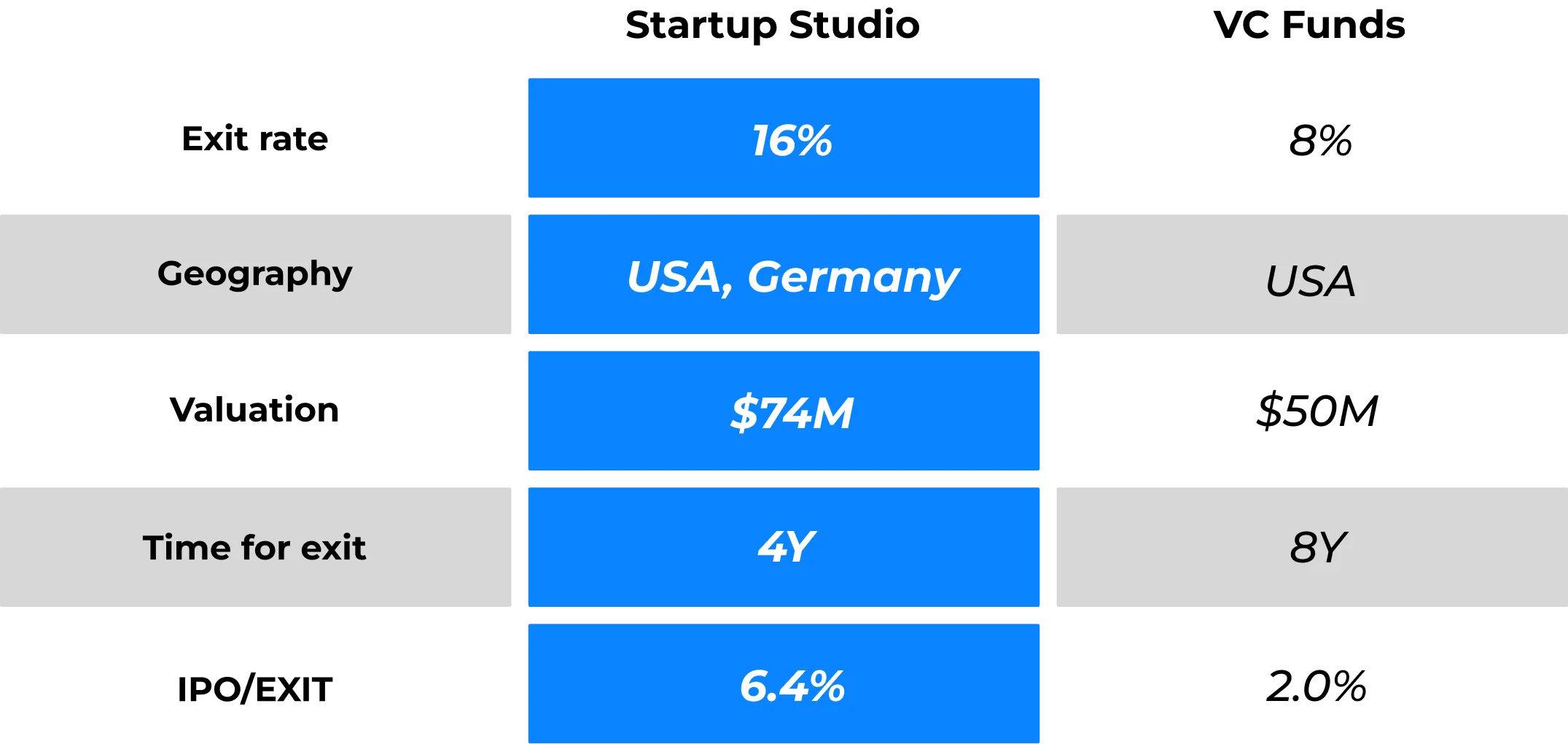 ---
Distinguishing the Conventional from Salfati's Vision
While traditional Venture Studios focus on incubating startups, at Salfati Group Venture Studio, we take a giant leap further. Our endeavor is not merely to launch startups but to address the systemic issues plaguing the startup realm.
Venture Studio Model vs. Salfati Group Venture Studio
The key differentiator is our unwavering commitment to a research-centric, AI-first methodology. We transcend the customary venture studio model by continuously evolving our portfolio strategies, thereby catalyzing a compound effect that propels our fund and the startups under our wing to loftier heights of success.
Traditional VCs vs. Salfati Group Venture Studio
Unlike traditional Venture Capitals, our venture studio is a well-oiled machine of research, mentorship, and strategic funding. We don't just fund startups; we delve into the granular challenges, arm them with tailored solutions, and guide them on the path of exponential growth.

---
Our Framework: An Engine for Early Success
Our framework is meticulously designed to focus on early growth, small investments, early-revenue, and funding as a growth engine. At its core, it's a well-orchestrated symphony of key elements that act in concert to accelerate startup success. Here's how it operates:
Early Growth: We prioritize swift, sustainable growth right from the outset, ensuring startups hit the ground running.
Small Investments: By mitigating risks through rigorous research and analysis, we optimize investment requirements.
Early-Revenue: Our emphasis on early revenue generation equips startups with a robust financial backbone.
Funding as a Growth Engine: Strategic funding isn't just fuel for our startups; it's the turbocharger propelling them forward.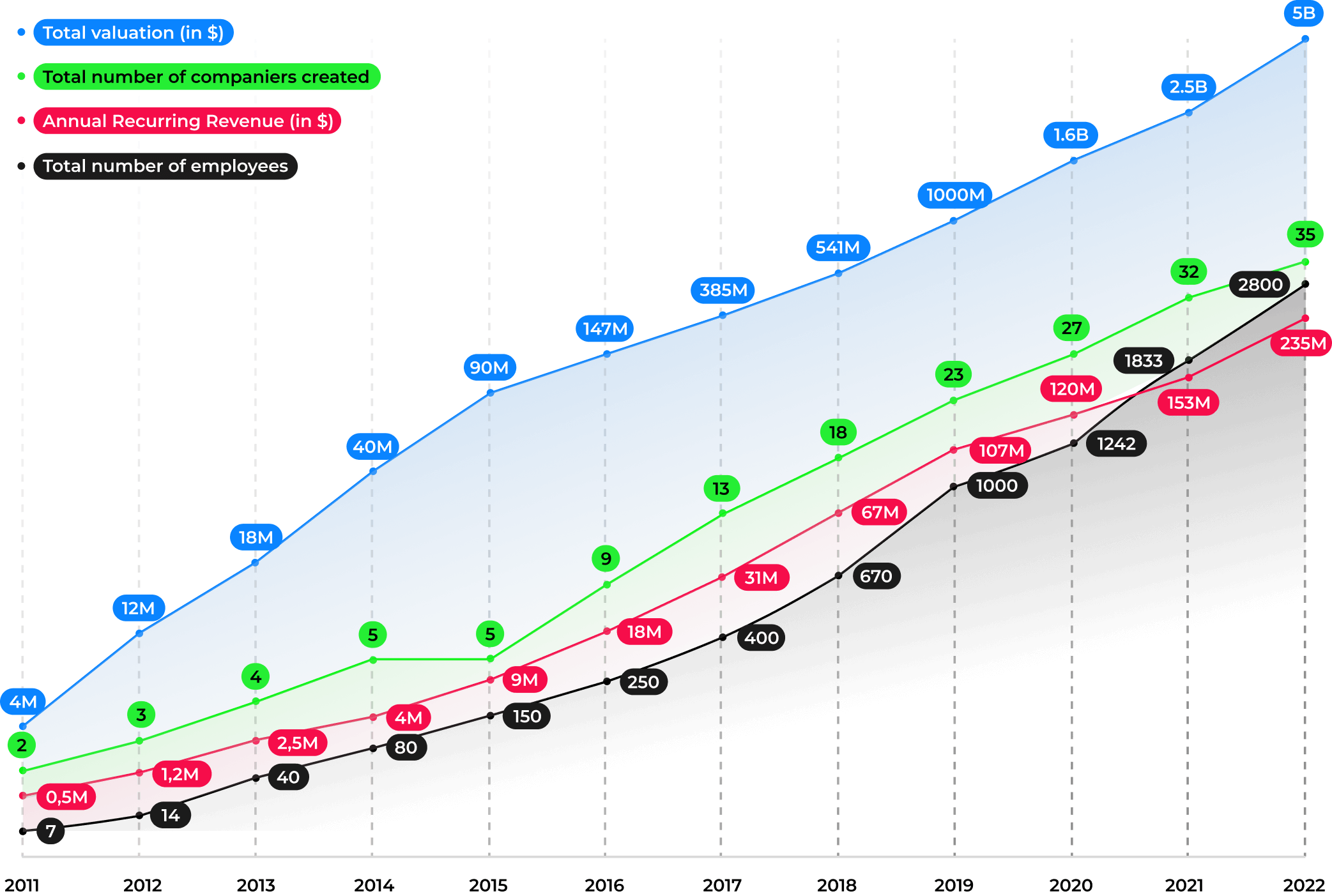 ---
Our Structure: A Triad of Venture Studio, Fund, and Startups
The Salfati Group Venture Studio is a tripartite structure comprising the Venture Studio, Fund, and Startups. Limited Partners (LPs) invest in the fund, the lifeblood that enables the spinning out of startups. This shared team framework ensures that when a startup exits, the General Partner (GP) receives a 20% carry, forging a lucrative pathway for all stakeholders involved.
---
Expected Average Returns & Startup Success Rates
Our model is engineered for success, and the numbers echo this sentiment. With a higher TVPI ratio and an impressive startup success rate, we not only offer a fertile ground for startups but also an enticing avenue for investors eyeing substantial financial returns.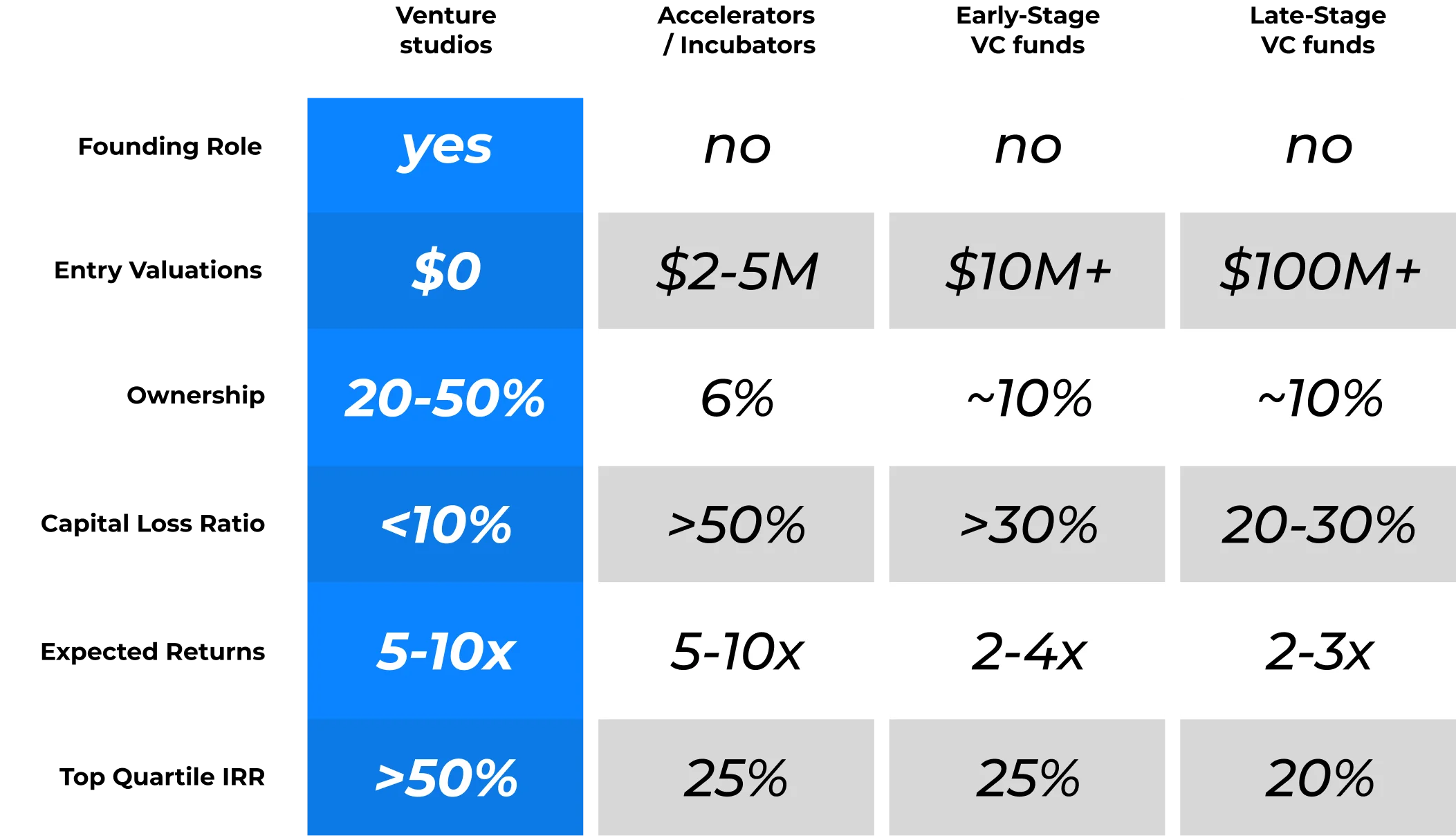 ---
Our Strategy: The Portfolio Paradigm
At the heart of our strategy is the portfolio paradigm that crafts a compound effect, enhancing our odds over time. By pinpointing the core challenges through exhaustive research, and spinning out startups to address these hurdles, we lay down a road paved with opportunities for every future startup emanating from our venture studio. This strategy isn't merely about launching startups; it's about elevating the entire startup industry to a new echelon of success and innovation.